CAiRS and MTR collaborate to promote innovative research exchanges on reliability and safety
2023-06-23 | News
FOR IMMEDIATE RELEASE
[Hong Kong SAR] - [June 2023]
CAiRS and MTR collaborate to promote innovative research exchanges on reliability and safety
Centre for Advances in Reliability and Safety (CAiRS) and MTR Corporation Limited (MTR) are pleased to announce the signing of a Memorandum of Understanding (MOU) on a collaboration between the two entities to cooperate in promoting innovative research exchanges on reliability and safety.
Through this collaboration, we will take advantage of our resources and talents who are familiar with innovative technologies and apply artificial intelligence technology to predict the lifetime of components to enhance the safety and reliability of MTR.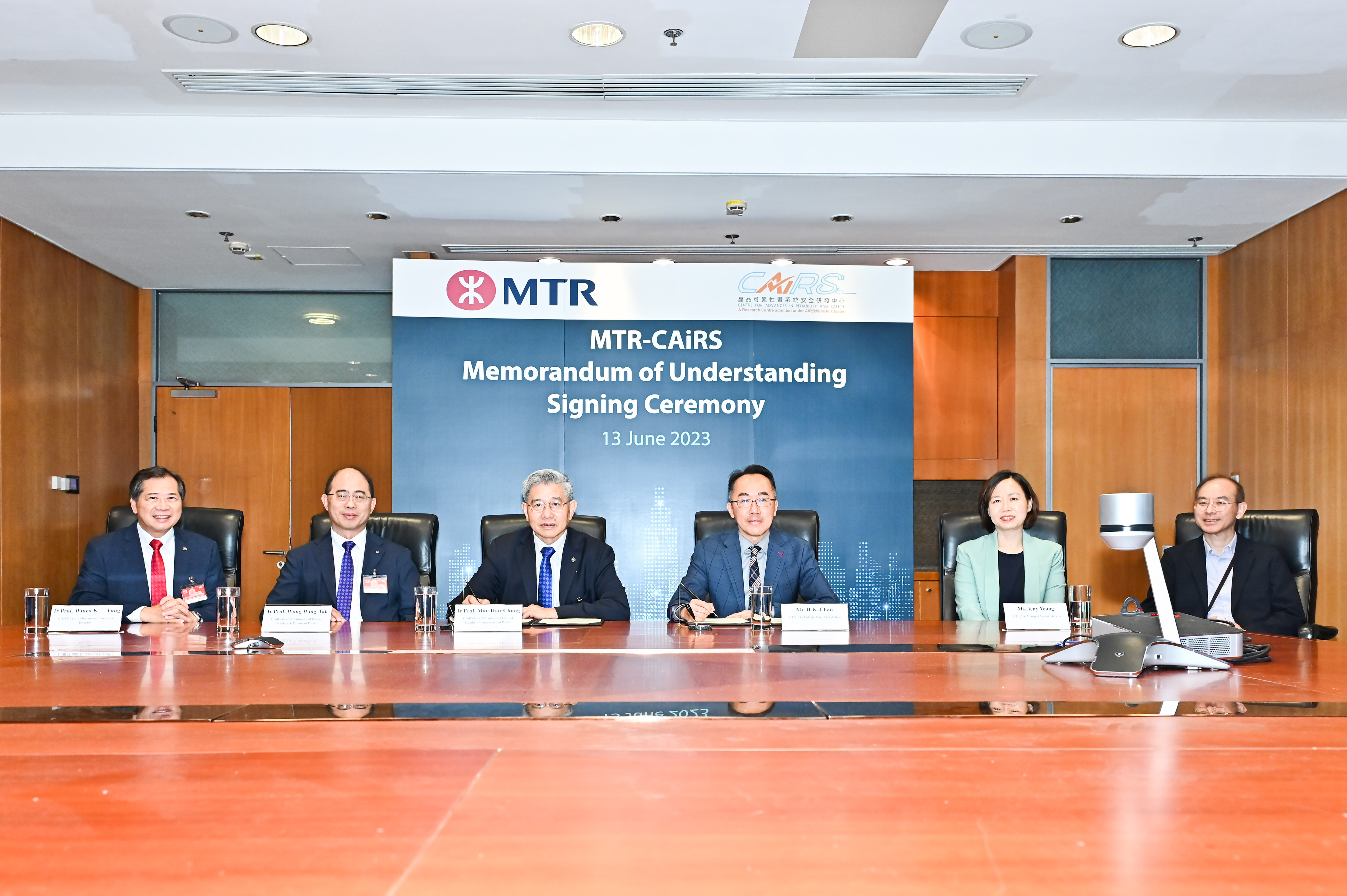 "I am thrilled and honoured to sign the MOU for CAiRS and MTR today. Once again, it proves that the achievements of CAiRS in just 3 years are obvious to all.", said Prof. Man Hau-Chung, CAiRS Board Member and Dean of Faculty of Engineering, the Hong Kong Polytechnic University. "The MOU signed with MTR will focus on research in three major areas (Anomaly Detection, Knowledge Transfer, Prognostics and Health Management). It is believed that after the signing of the MOU, there will be more opportunities to jointly develop advanced artificial intelligence technology in the future to strengthen the overall reliability and safety of MTR."
The signing of the MOU marks the beginning of a long-term partnership between CAiRS & MTR. It is consequently expected to create new opportunities for further collaboration and innovative reliability and safety research. This again is achieved by research experience exchange in product reliability and system safety using modern innovative technologies.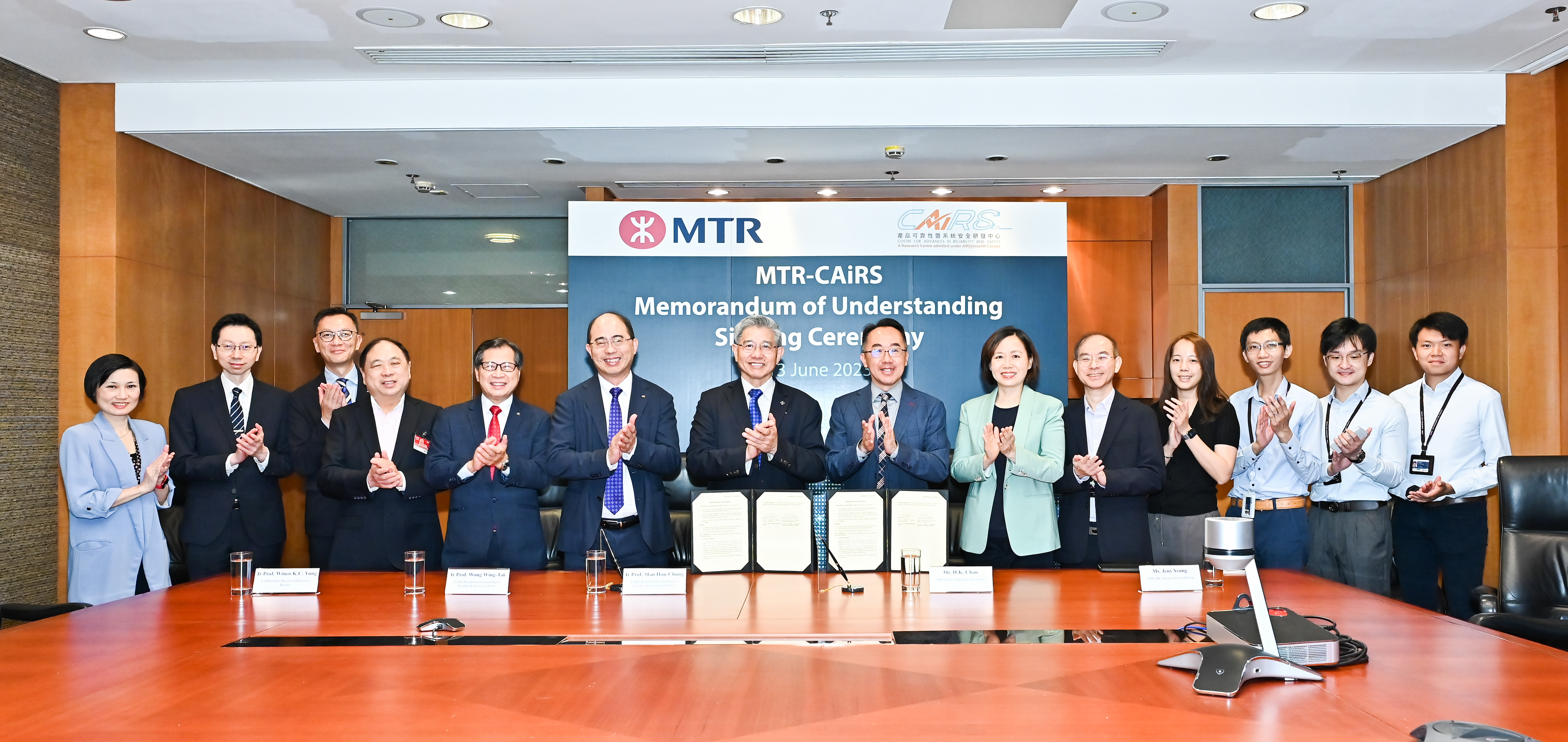 For more information, please contact Ms Jan Yeung, Liaison & Marketing Manager of CAiRS at janyeung@cairs.hk.
CAiRS is a collaboration between The Hong Kong Polytechnic University (PolyU) and the University of Maryland - College Park (UMD), USA. The Centre gathers top local and overseas academics and scholars, uses advanced equipment, and leverages innovative artificial intelligence technology in order to conduct wide ranging product reliability and system safety research to accurately predict the occurrence of failures and prevent them from occurring.
MTR is regarded as one of the world's leading railway operators for safety, reliability, customer service and cost efficiency. The current rail network comprises nine railway lines serving Hong Kong Island, Kowloon and the New Territories. The Corporation also operates the Airport Express, a dedicated high-speed link providing the fastest connections to Hong Kong International Airport and the city's major exhibition and conference centre, AsiaWorld-Expo. For journeys beyond Hong Kong, MTR commenced service of Guangzhou-Shenzhen-Hong Kong High Speed Rail (Hong Kong Section). The High Speed Rail connects Hong Kong to the national high speed rail network and passengers can conveniently travel directly to many destinations in the Mainland of China without interchange.
---