[Press Release] CAiRS and BSUIR collaborate to foster talent exchange in innovative reliability and safety research
2023-05-12 | News
Press Release

[Hong Kong SAR] - [May 2023]

[FOR IMMEDIATE RELEASE]
CAiRS and BSUIR collaborate to foster talent exchange in innovative reliability and safety research

Centre for Advances in Reliability and Safety (CAiRS) and Belarusian State University of Informatics and Radioelectronics (BSUIR) are pleased to announce the signing of a Memorandum of Understanding (MOU)
on
a
collaboration between the two entities to foster talent exchange in innovative reliability and safety research.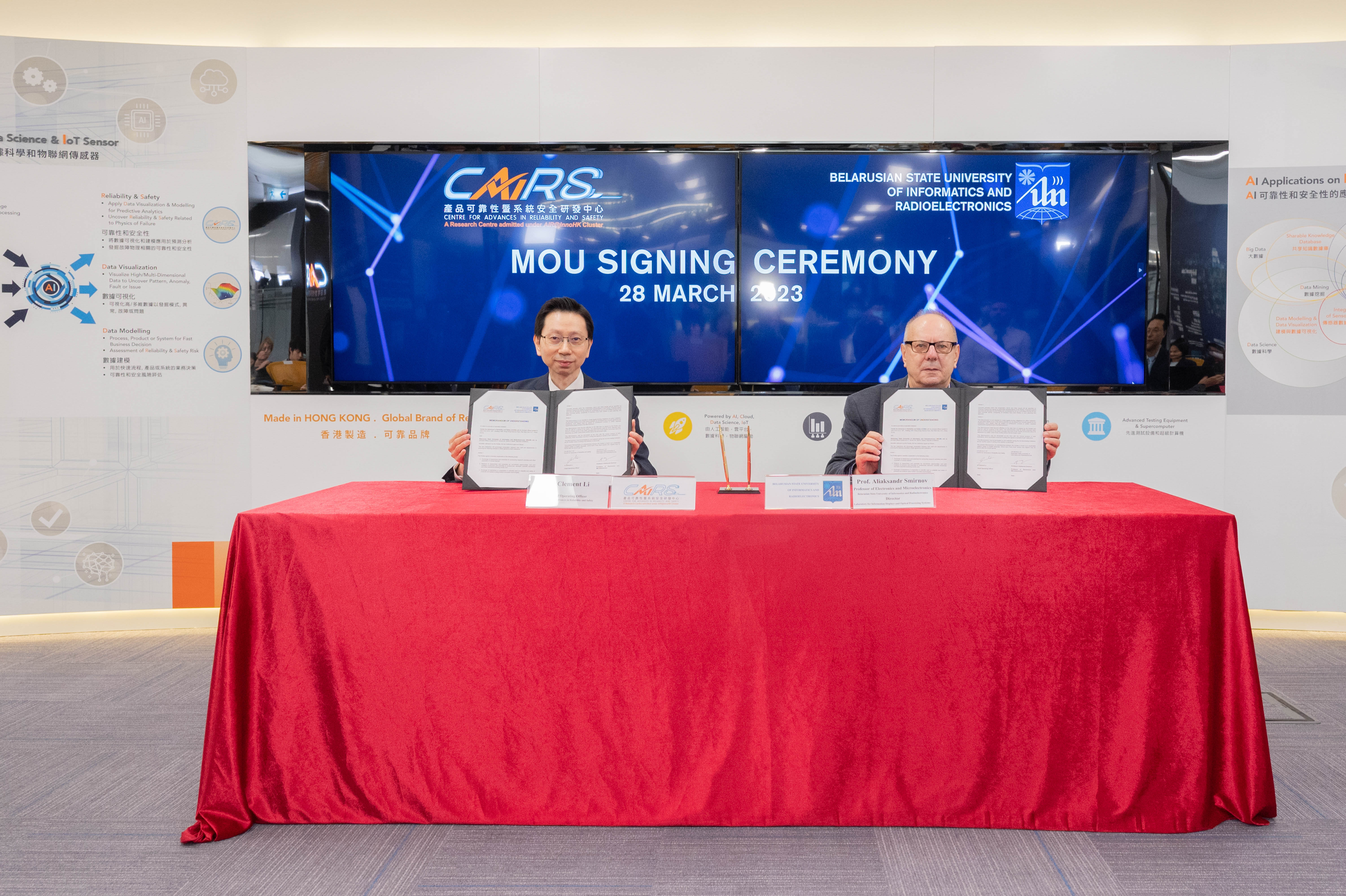 The research collaboration will bring together experts from both CAiRS & BSUIR to strengthen talent resources and research exchange for innovative reliability and safety research. With concerted effort and strengthened co-operation, exchange in talent resources and innovative technologies on product reliability and system safety will be much enhanced.


"We are thrilled to partner with BSUIR," said Professor Wing-tak Wong, Chairman of Board, CAiRS and Deputy President and Provost, The Hong Kong Polytechnic University. "This collaboration will enable us to leverage the complementary strengths of our institutions and in addition, strengthen talent resources through the exchange of researchers and scientists for conducting research activities. It also provides the necessary critical mass to attract talents and nurture them by referral of researchers and scientists for recruitment opportunities. In addition, there is the opportunity of joint invitation of lecturers and scientists to conferences, seminars, scientific workshops and other experience-sharing events."


The signing of the MOU marks the beginning of a long-term partnership between CAiRS & BSUIR. It is consequently expected to create new opportunities for further collaboration and innovative reliability and safety research. This again is achieved by research experience exchange in product reliability and system safety using modern innovative technologies.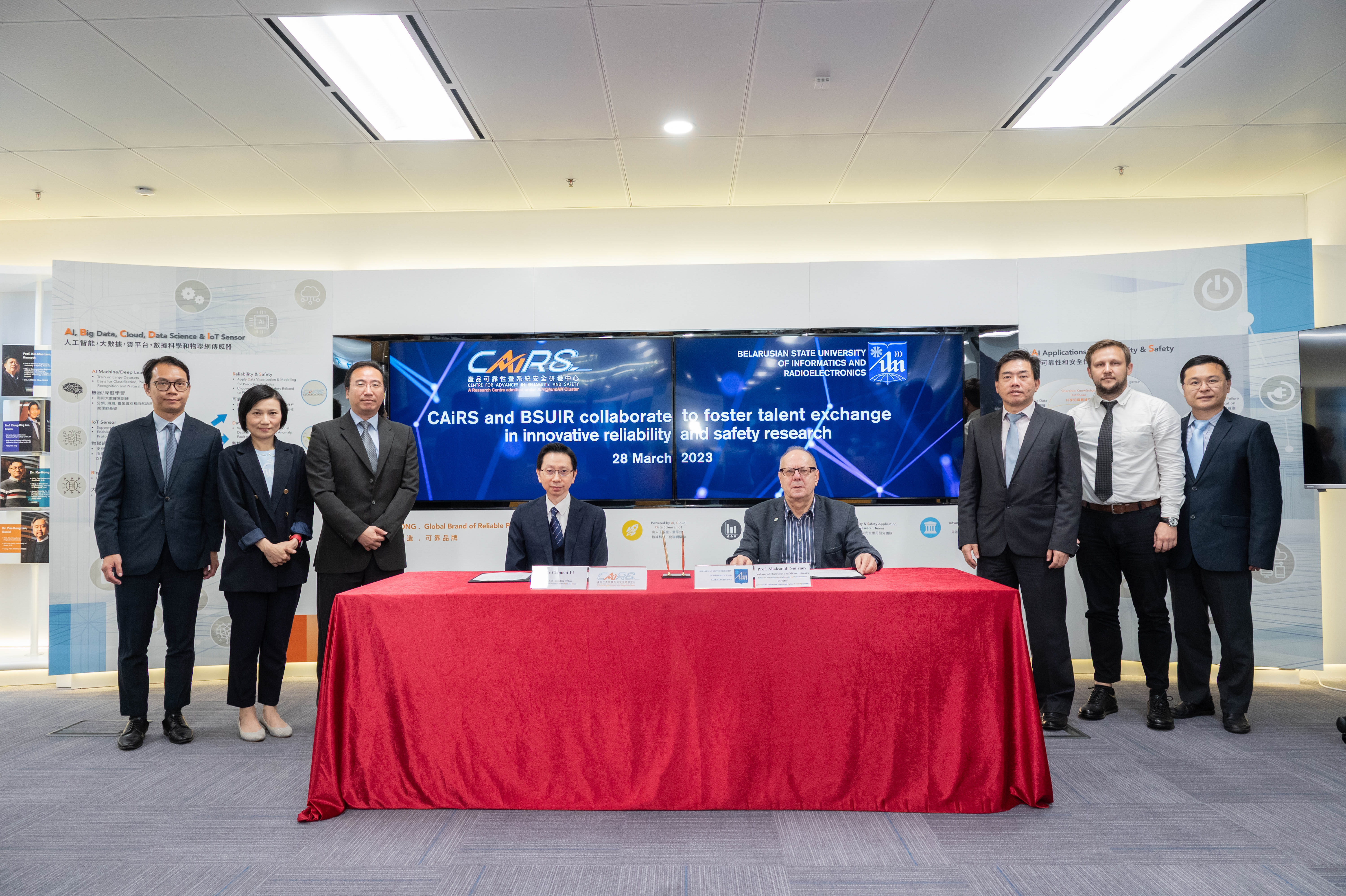 For more information, please contact Ms Jan Yeung, Liaison & Marketing Manager of CAiRS at
janyeung@cairs.hk
.
CAiRS is a collaboration between The Hong Kong Polytechnic University (PolyU) and the University of Maryland - College Park (UMD), USA. The Centre gathers top local and overseas academics and scholars, uses advanced equipment, and leverages innovative artificial intelligence technology in order to conduct wide ranging product reliability and system safety research to accurately predict the occurrence of failures and prevent them from occurring.
BSUIR is the leading educational institution in information technologies, radio electronics, info- and telecommunications, and micro- and nanoelectronics. Today, the University has become a large national research and educational centre possessing great workforce, scientific and training capacities, up-to-date laboratory equipment and extensive infrastructure. BSUIR is a big and friendly family of over 16 000 talented students, about 900 experienced faculty and thousands of successful alumni who are holding high responsible positions all over the world.
---