Powertester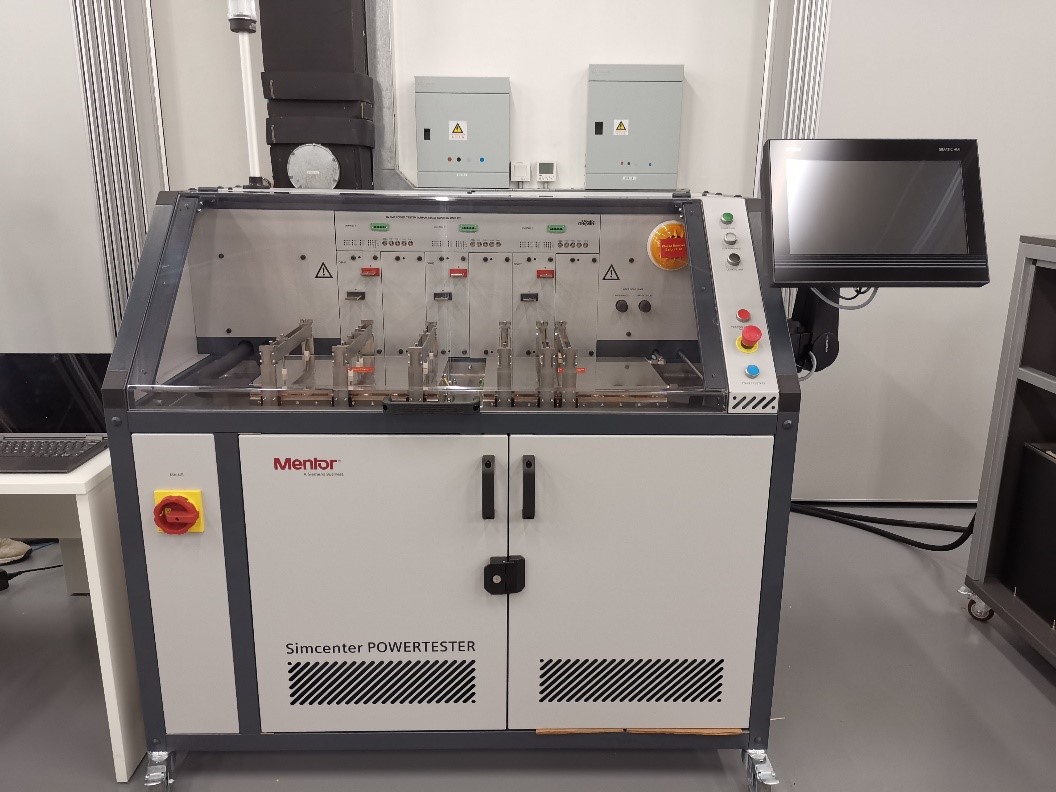 The Powertester PwT 1500 at CAiRS is the first system installed in Hong Kong and the only machine that does automatic power cycling, by powering the modules tens of thousands, potentially millions, of cycles while simultaneously producing analytical data for real-time failure-in-progress diagnosis. Therefore, it can reduce total testing time of up to 10x.
It provides thermal transient measurement for junction temperature characterization and Rth identification following the JEDEC JESD 51-1 static test method and support the JEDEC JESD51-14 transient dual interface measurements.
It can conduct power cycling test in accordance with IEC 60749-34:2011 to meet the requirement of ECPE Guideline AQG 324 Qualification of Power Modules for Use in Power Electronics Converter Units in Motor Vehicles.
Typical Applications:
Power electronics thermal simulation and test

Comprehensive diagnostics for thermal reliability
Specifications:
Maximum load current: 1500A (Depend on Cooling Capabilities)

Automatic testing and diagnosis of possible failure causes of power components, i.e., insulated gate bipolar transistors (IGBT) and power electronics

Output for failure analysis: Structure functions

Sensor Current Output Capabilities

Minimum Is Output per Channel: 5 mA

Maximum Is Output per Channel: 1 A

Is Programming Resolution: 0.5 mA

Measurement Capabilities

Input Channels for Transient Capturing: 3 or more

Input Voltage Range: +/- 12 V

Maximum Voltage Resolution: 16 uV

Maximum Time Resolution: 1 us

Minimum Pulse Duration: 0.5s

IG Measurement: 250 pA to 100 uA

IG Measurement Resolution: 25 pA

Powering Capabilities

Maximum Heating Current (combined channels): 1500 A

Number of Heating Channels: 3

Maximum Heating Current per Channel: 500 A

Heating Current Resolution: 500 mA

Heating Current Accuracy: 0.1% set + 0.3% range

Switch-on Time: 50 ms

Switch-off Time: 100 us

VCE Voltage: 0 to 8 V

VGE Voltage: -10V to +20V

VGE Voltage Resolution: 0.01 V
Back>>